New Year, More You...In 2 (Weeks)! #4
It's Day 4!
(missed Day 3? You can find it here.)
I hope you're feeling good about your progress and excited to see what you can do to your bio with small changes everyday. And remember, for those who make it to the end, a special surprise awaits.
People always ask me "how long should my bio be?" and my answer is, it depends.
I know, not super helpful. But here's the thing with any content, it should be as long as you need to get your point across and convey your message, but if it's compelling, it can be as long as you want.
Consider how a 150-page book can feel like 1000 pages when the writing isn't inviting or exciting. And how a 1000-page book can feel like 150 pages because it's so damn good you can't put it down. Length isn't the issue. Content and flow are.
Bullets and subheads, oh my!


It's important to remember that regardless of how much you include in your bio or anywhere else, almost no one is reading all of it. And that's ok. Most people are going to read what interests them and what they need to make a decision to reach out or buy. But, never fear, because you get to control that narrative and you get to drive that bus.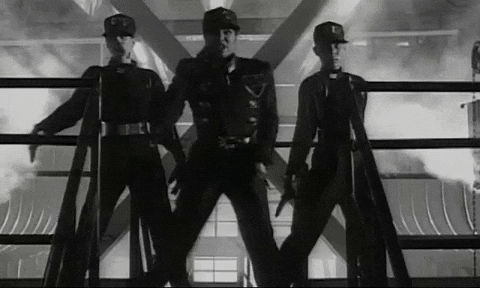 Take it from Janet, you're in control.
We have to assume that people are going to skim. We all do it. Our eyes scan over content looking for something to jump out at us. And, nothing is jump out in a huge block of text.
However, if you use subheads to not only break up your content but let people know what will be in each section, you're making it easier for them to find what interests them and read it. Just look at how I structure these emails and my newsletter. Tons of subheads (and hopefully, clever ones at that).
Examples in the wild
Your subheads don't have to be clever, but the idea is to tease what's going to be in each section. So, for a bio, you can even break up a few paragraphs with sections like:
My story

My work experience

My education

My hobbies, etc.
Not overly exciting but at least you're telling the reader what to expect in each section. Here are some client examples and how we used this technique in varying ways on their bios:
Number one with a bullet
Now that you've broken up your sections, you can even go a step further. For bios especially, bulleted content is a great way to showcase awards you've received, specific metrics and achievements, and proud accomplishments you want to highlight and don't want to get lost in paragraph copy.
Here's a great example from my friend Judy (I'm linking to her bio but in case you can't see it, here's an excerpt):
She could have included all of this in a paragraph or two of content, but likely it would have been overlooked. By calling out what WE want our readers to notice, WE get to say, "Hey, this is important. Please read this!" Remember, channel Janet. You're in control of your message. What you put out there and how you put it out there.
It's time for a break up
For challenge #4, you're going to break your bio into sections with subheads and try to find 1-2 places you can include bullets for important copy.
You're driving the bus, so you get to decide what your subheads say — whether they're funny or simply informative. And, you get to call out the important accomplishments you've done over the years in bulleted form so that your audience can easily see them (and I don't care if you're new to this, you're pivoting or just humble, you absolutely have things you can tout and make them relevant to your new bio.)
You survived and are surviving a pandemic

Maybe you picked up a new hobby

Maybe you took charge of your finances

Logged 1000 miles on the Peloton

Binged 1000 shows

Put together countless puzzles

Started a side hustle
It can be serious or not so, or a mix of both. But you get the idea. Expand what you think people want to know and tell them what YOU want them to know.
That's it.
Easy peasy.
See you tomorrow.
And if your bio is already uses subheads and bullets...